Sharia Implementation in Northern Nigeria
About the book
This work of documentation and analysis was published in 2007 by Spectrum Books Limited: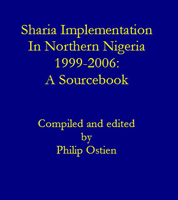 Spectrum Books Limited
Spectrum House
Ring Road
PMB 5612
Ibadan, Nigeria

www.spectrumbooksonline.com

e-mail: admin1@spectrumbooksonline.com

© Philip Ostien; all rights reserved.

First published 2007

Publication of this book has been made possible by a grant from Cordaid, Lutherse Burgwal 10, 2515 CD The Hague, The Netherlands, www.cordaid.nl.

ISBN: 978-978-029-837-1

Published price of the complete set of five volumes: US$125 plus postage. The work can be purchased online at the website of the publisher.
Preamble to the online version
The University of Bayreuth is pleased to republish these volumes here, by permission of Philip Ostien and of Spectrum Books, to facilitate access by students and scholars everywhere.
In addition to the complete text of the work as published by Spectrum, this Internet edition includes additional documentary materials too voluminous for inclusion in the printed text. For complete details see the tables of contents to the individual volumes.

Several more chapters – on "Court Reorganisation", "Judges of the Sharia Courts", "Hisbah and the Police", "Crimes and Punishments", "Councils of Ulama and Related Bodies", and "Zakat and Endowments", are in progress and will be posted here when they are ready.

Note on the text as republished here: The chapters of the printed text, each quite long, have been disaggregated into their main parts, which are presented here as separate PDF files to facilitate selection and downloading. Pagination and footnote numbering have been preserved as in the text as published by Spectrum. New footers identifying the source have been added to each page.
Sharia Implementation in Northern Nigeria 1999-2006: A Sourcebook (Full text)
Please click on the arrows in front of the volume titles to see the complete tables of contents for each volume. By then clicking on the links marked [PDF Format], the indicated parts of the volumes can be accessed in full text.


Volume I: Historical Background
Preface to Volumes I - V [PDF Format]
Some Demographic Data: Nigeria's Sharia States [PDF Format]
Chapter 1: Historical Background
Volume II: Sharia Implementation Committee Reports and Related White Papers
Chapter 2: Sharia Implementation Committee Reports and Related White Papers
Supplementary Materials
Volume III: Sanitizing Society
Chapter 3: Sanitizing Society
Volume IV: The Sharia Penal and Criminal Procedure Codes
Chapter 4: The Sharia Penal Codes

Chapter 5: The Sharia Criminal Procedure Codes



Supplementary Materials

Some Parts of Crimes & Their Punishments, a report produced by the Borno State Council of Ulama and presented to the Borno State Government on 1st June, 2001 [PDF Format]
Two reports of the Kaduna State Government Committee on the Harmonisation of Drafts of the Sharia Penal Code and Sharia Criminal Procedure Code Laws [PDF Format]
Volume V: Two Famous Cases
Chapter 6: Two Famous Cases